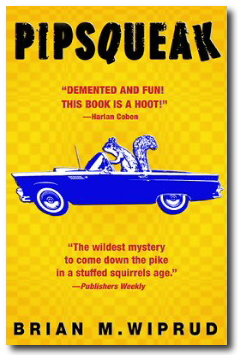 PIPSQUEAK
The First Garth Carson Novel
- Winner of the Lefty Award for Most Humorous Mystery Crime Novel
- A Barry Award Nominee

I DESCRIPTION I REVIEWS I EXCERPT I

"Demented and fun! This book is a hoot!"
—Harlan Coben, author of Gone for Good, Tell No One and the Myron Bolitar series.

---
PIPSQUEAK is a novel about a New York taxidermy/collectibles dealer and his gal Angie at odds with a swing-band conspiracy to undo the information age. It all centers on the murder of a biker, a mysterious brawny red head and a stolen TV squirrel puppet named Pipsqueak. Garth's black-sheep brother Nicholas gets in the mix, and embroils Garth and Angie in a search for Pipsqueak that entangles them in a violent anti-technology cult fronted by a pontifical bandleader. Is Pipsqueak the key to a government-sanctioned mind control scheme via high-definition TV? Not if Garth has anything to say about it.

"Demented and fun! This book was a hoot!"
— Harlan Coben

"UPROARIOUS…The wildest mystery to come down the pike in a stuffed squirrels age."
— Publishers Weekly

"First get past the cover. Then the title. Now I dare you to get past the funniest book this year."
— Debbie Neckel, BookCrazy Radio

"Read the book, and hope for a sequel."
— Maggie Mason, Deadly Pleasures

"PIPSQUEAK is a wonderful book. It is so unlike other mysteries that I've been reading that it just grabbed me and wouldn't let go."
— Jon Jordan, Crimespree Magazine

"Admirers of Donald Westlake and Elmore Leonard, especially, though, will find much here to enjoy. Wiprud is definitely a writer to watch."
— David Montgomery, Mystery Ink

"This author ROCKS!" A mystery filled with scenes of Murphy's Law: If Things Can Go Wrong, They Will. Fun, hilarious, and warped… Recommended to all who want a few laughs with their mystery!"
— Detra Fitch, Huntress Book Reviews

"By the time I finally finished reading PIPSQUEAK, my face hurt from the constant grinning. "
— Michael S. Grollman, reviewingtheevidence.com

"Parallel to that of Carl Hiaasen or Gregory McDonald…Brian M. Wiprud knows how to churn out a novel that any mystery reader will undoubtedly enjoy! "
— Phillip Tomasso, Bookbrowser.com

"Helluva lot of fun. Wiprud has a tremendously vivid imagination and has created a book that is well written, fast paced and very enjoyable. And just a tad quirky."
— 4 Mystery Addicts Maddy Van Hertbruggen

"This one rates pretty high on the Strange Meter."
— Dead Trees Reviews, Paul Lappen.